At AMC we strive to offer the finest veterinary service available. Our facility is equipped with the most modern technology in healthcare and our staff is continually training in the best treatment of companion animals.
Veterinary Consults
Periodically we encounter an extremely difficult medical or surgical case that requires a second opinion or unusual equipment. This hospital does not hesitate, when necessary, to use Board Certified Veterinarians to assist us in making your pet well. Most of our consultants are at Veterinary teaching hospitals. Others are in private practice.
Pet Styling - Grooming and Bathing (Mon-Sat)
Call for an appointment. Walk-ins welcome. We have professional groomers who will be happy to speak personally with you to discuss your pet's grooming needs.
An important part of your pet's health is bathing, nail clipping, and a trim. At Animal Medical Center, we offer full grooming services in a state of the art facility, maintained to our standards of cleanliness and comfort. Our groomers are well trained, have years of grooming experience, and the same animal loving attitude the rest of our family have.
Walk-ins welcome, but appointments preferred.
WE GROOM ALL BREEDS AND CATS!
Bathing and Dipping for Fleas and Ticks
Also, we provide medicated baths when indicated. Nail trim and routine ear cleaning is included in the cost of a bath or groom.
Boarding
We provide pet lodging as a service for our clients. For the safety of all our patients, boarders are required to have current vaccinations, a stool test within the last thirty days, and be free of internal and external parasites. Runs are available. Dogs are exercised outdoors two to three times a day in a fenced in area, and hugs, playing, and petting come free of charge. Pet's health is monitored and recorded daily. Please feel free to request a tour of our hospital.
Skin, Allergy and Ear Care (Dermatology)
Doctor Zwilling has a special interest in Skin, Allergy and Ear Care for Animals. Animal Medical Center treats skin diseases associated with bacterial infections, fungal infection, parasitic skin diseases, viral conditions, hypersensitivities, autoimmune/immune mediated skin diseases, endocrine diseases, alopecia, and genetic skin disorders. Read more.
Cancer Treatment
Animal Medical Center is dedicated to enhancing the quality of life for pets living with cancer. Our doctors, who have a special interest in cancer cases, are here to provide reassurance, compassion and offer treatment in an empathetic environment. Veterinary oncology has made advances offering options for treatments.
Dentistry
Good dental hygiene is a key part of helping your pet lead a happy, healthy, and long life. According to studies 85% of adult pets have periodontal disease.
What you can do
BRUSH. Preventing periodontal disease begins at home. By brushing your pet's teeth on a regular basis (as often as possible), you will help to reduce plaque buildup. Be sure to use a toothbrush and toothpaste specially designed for dogs. Dental chews, rinses and water additives will also help to remove plaque.
CLEAN. You visit your dentist regularly for cleaning and dental exams; you should take your pet to your veterinarian regularly for the same type of care. Regular professional cleaning under general anesthesia, including areas under the gum line will help remove plaque and tarter on teeth. This can help to reduce the bacteria's contribution to periodontitis.
Animal Medical Center offers a full line of dental services including brushing teeth, dental cleanings and polishing, extractions, crowns, and implants.
Periodontal disease is the most common disease among dogs. It affects more than 8 out 10 dogs over 3 years of age.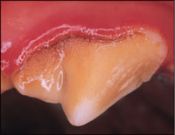 Stage 2 - Mild Periodontitis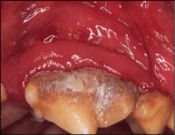 Stage 3 - Moderate Periodontitis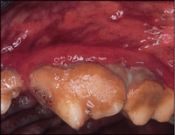 Stage 4 - Severe Periodontitis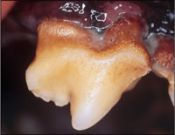 Emergency Service After Hours: Call 954-741-2777
Emergency service is available 24 hours/day, 365 days a year. We have an intensive Care Unit for the most critically ill patients. We'll make every effort to respond quickly to your call for help, however, should the doctor be unable to contact you promptly, or in the event your pet needs immediate attention, you may be referred to the Pet Emergency Center 954-726-0998 or 954-772-0420.